Swisson XMT-350 DMX Tester and RDM Controller
The Swisson XMT-350 DMX tester and RDM Controller is very well built and adds RDM Controller capability to the features of the XMT-120A. The device is very portable and it's rugged build quality fits comfortably into your hand. The XMT-350 's large graphical LCD screen is back-lit and is very easy to read. It is powered by a 9V battery and can be plugged in permanently via any Micro USB adaptor.
The XMT-350 -SET includes a belt case, a 3-pin to 5-pin adaptor and a 5-pin to 3-pin adaptor.
The XMT-350 can send and receive DMX data, as well as test DMX cables for continuity and shorts.
XMT-350 Features
Micro USB Port added to the unit for firmware updates, communication with PC and also enables powering the unit via Micro USB adaptor.
Channel Tracer function displays any DMX channels that have values that are changing. Great for tracing down that ghost in the system.
Control and test channels in groups ALL, 3rds and 4ths makes testing of large LED systems very easy
Flicker Finder and Min/Max displays for tracing DMX issues to the source
DMX Timings readout to debug possible issues stemming from your DMX source
RDM controller **

Set DMX address remotely **

Set "Personality" mode remotely **

Readout RDM device Information **

Automatic DMX patch support over RDM **
** Features in addition to the base features of the XMT-120A

RDM Features
RDM-enabled devices can be monitored and controlled with the XMT-350. For example, the DMX addresses can be set remotely. The XMT-350 automatically detects and lists all reachable RDM devices.
The DMX patch mode from the XMT-350 simplifies the installation. The user selects the desired order of the fixtures and the XMT-350 patches the devices automatically.
Status information such as the burning time of the lamp can be read directly on the XMT-350. The user doesn't have to go to the fixture.
Receive Mode
In receive (analyze) mode the XMT-350 can receive data from any active DMX line and the real-time values can be viewed in percent, decimal or hexadecimal format. You can view single channels, a grouping of 60 DMX values at the same time or all 512 channels at the same time.
| | | |
| --- | --- | --- |
| | | |
| Single Channel Mode | | Graph Mode (entire DMX universe) |
If any DMX errors occur the XMT-350 will display "ERROR" in the top right of the screen, if there is not DMX signal at all "NO SIGNAL" will be displayed.
The XMT-350 has an intelligent channel search function that will enable the unit to only display DMX values that have recently changed, this allows you to determine what DMX values your console is affecting when you bring up a channel.
Send Mode
In send mode the XMT-350 is capable of controlling any DMX device, from a simple dimmer to the most complex moving light. 32 separate lighting scenes (cues) can be recorded on the device allowing for quick access to pre-set levels.
It is also possible to combine these scenes and turn them into a sequence (chase) of up to 100 steps. The sequence speed and fade times can be easily changed as well.
Cable Testing
The XMT-350 is capable of testing both 5-pin and 3-pin DMX cable. The shield and all 5 (or 3) pins are checked for continuity and shorts and a graphical representation of any errors will be displayed.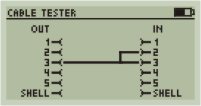 Fixture Profiles and Binary Addressing
Fixture Profiles can be entered into the XMT-350 and, once patched, a visual representation of the current channel can be viewed at the bottom of the screen. This can help to indicate what channel of a fixture you are trying to affect with the XMT-350.
Binary addressing for each channel can also be displayed as straight binary or binary +1. This allow you to check if your fixtures that use binary address switches are addressed properly very easily.
Fixture profiles can now be loaded and saved to the XMT-350 via PC software through the Micro USB port.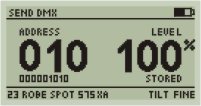 Fixture Profiles and Binary Address
Shipping Dimensions and Weights
Length
9 inches (229mm)
Width
6 inches (153mm)
Height
4 inches (102mm)
Weight (Typ.)
1.74lbs (783 grams)
Core Product
Inventory Core Product
YES